Resources
1) E-Learning Platform
Visit Keysight University, an e-learning platform which will advance your knowledge of precision digital and RF measurement approaches, the latest industry standards, compliance, power, and more. You can learn basic to advanced techniques, tips, and tricks that lead to more accurate measurements and more insightful signal interpretation.
2) Essential Electronics Laboratory Instruments
Keysight offers a series of instruments that you would need to perform testing and measurement in your design projects. Among them are the digital multimeter, oscilloscope, power supply and function generator. Depending on your application, you can identify which suit your needs.
3) IoT Development Kit
The U3810A IoT Development Kit (an advanced version of previous U3800A kit) is part of the Keysight's Advanced IoT Teaching Lab Solution, allowing participants to prototpye IoT solutions.
The intention of the courseware is to produce students who will fully understand the challenges and requirements of the IoT system design cycle, from design and validation to deployment in the market. In addition to teaching practical design and test techniques from the fundamentals of system design to wireless communication and power measurement, this courseware will also cover critical design considerations that have emerged with the evolution of the Internet of Things, such as cybersecurity, coexistence, compliance and continuity.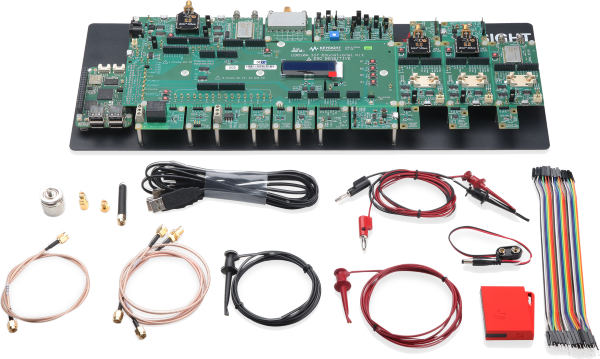 Keysight is committed in empowering academic educators and students with cutting-edge tools, knowledge, and skills necessary to stand out above the rest. Find out about our Industry-Ready Student Certification Program, University Support Program and many more.