Winners have been announced in the Grand Finale held at Hotel Equatorial Penang on 14 July 2012. Congratulations to the winning teams!

The MOSTI Innovate Malaysia Award 2012 goes to team MY038 from UTM with project "Lab-on-Chip Cell Counting System Based on Agilent USB DAQ" from Agilent track. The team members are Mohamad Faizal bin Abdullah, Muhamad Khairul Amilin bin Muhamad Hassim, and Rabiah Adawiyah binti Shahad, supervised by Fauzan Khairi Che Harun.

The IEM Best Thesis Award goes to team MY021 from MMU (Cyberjaya) with project "FPGA-Based Hand Gesture Home Control System" from Altera track. The team members are Lee Chia Ching, Wong Chin Yeow, and Pua Yi Xun, supervised by Cheong Soon Nyean.

News Releases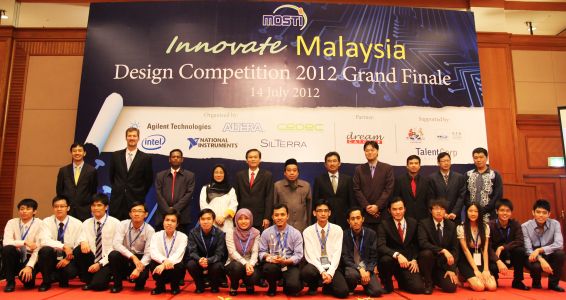 Agilent Track
Prize



Details

First


University:

UTM


Project title:

Lab-on-Chip Cell Counting System Based on Agilent USB DAQ


Team members:


Mohamad Faizal bin Abdullah
Muhamad Khairul Amilin bin Muhamad Hassim
Rabiah Adawiyah binti Shahad


Advisor:

Fauzan Khairi Che Harun


Project abstract:


This project described a Lab-On-Chip cell counting device using microfluidic concept. Microfluidic device are commonly used to conduct biomedical research and create clinically useful technologies. Conventional technologies are normally bulky, expensive and not easily accessed. Therefore, there are several objectives in this work, including developing a simple, low-cost, fast and high sensitivity in a miniature size device with the help of Agilent tools. There are three subsystems in the main project, namely fluid flow control, droplet detection and automatic cell counting. Micropump is used to control the flow rate to generate the pattern and size of droplets. The entire controller based on VEE software and Agilent DAQ modulator. For automatic cell counting, the system operates either by direct capturing an image of cells from an USB camera attached to the microscope or by uploading an existing image of cells. The image is then analyzed based on the circular shape detected by Circular Hough Transform technique written in Matlab and the circle is drawn based on the radius acquired from the measurement of circle distance ranges. This automated cell counting system provides a user friendly interface to determine a total numbers of cells in a sample given. Besides, it offers fast method of counting with great accuracy (92%-96%). At the end of our project, the system is able to produce a constant size and distance of the droplet, determine the number of cell based on capacitive value, and also able to count the cell automatically.

Second


University:

MMU (Cyberjaya)


Project title:

Design and Construction of an Autonomous Robot


Team members:


Kok Yu Fan
Ivan Lim Chen Ning


Advisor:

Lo Yew Chiong


Project abstract:


A kinect sensor autonomous robot is characterized by the ability to map its surrounding for obstacle avoidance and object identification through image processing. The kinect sensor is used to provide essential RGBD data from the frames collected. The main idea of this project is to develop and construct an autonomous robot capable to adapt itself in a given surrounding and accomplish daily assigned task through image recognition. This robot will be served as a test platform to investigate the potential of kinect sensor to be manipulated in robot testing. Researching on this unique and new system should give more understanding on image processing sensors and implementation on the hardware. In the end of the project, the robot should be able to move freely localizing itself in a self-mapped area whilst identifying the objects in the area. Lastly, USB Modular products provided by Agilent should help to archive higher integration between theoretical and practical knowledge in building a kinect sensor autonomous robot. This proposal includes the introduction of the project and the descriptions of the use for each Agilent USB Modular product in this project.

Third


University:

UM


Project title:

Intelligent Single Phase Power Supply System in an Aboriginal Village


Team members:


Yap Keen Yew
Phuah Chin Yuen
Yap Cheng Kang


Advisor:

Dr Hew Wooi Ping


Project abstract:


A single phase three wire wind energy conversion system connected with power supply system in aboriginal village is presented. Intelligent single phase power system is a complete stand-alone, innovative, sustainable, environmental friendly and significant system in aboriginal villages in Malaysia. An equivalent model of the proposed system is simulated, modeled, and analyzed. Basically, this project is divided into 3 main parts, which are wind generator, DC/DC Buck converter and DC/AC inverter & power supply distribution. Firstly, a low torque radial flux permanent magnet Wind Generator is designed and simulated using finite element method. Another three phase motor is coupled to the wind generator to simulate the incoming wind. At the end of this part, AC power generated by the wind generator is going to be rectified to DC power. Secondly, a DC/DC converter is designed and constructed. This system uses a DC voltage generated from Wind Generator as the primary source. The DC/DC converter that we use is Buck converter. It will step down the voltage from the wind generator. The suitable components rating are chosen in order to get the desired DC voltage. The feedback system is applied to the Buck converter in order to maintain the output voltage. Thirdly, a DC/AC inverter is designed and constructed. The regulated DC power is then converted to AC power through the DC/AC Inverter. In the inverter side, a sinusoidal output voltage is generated to provide a stable and clean source voltage to the load. The AC output voltage generated is then connected to a center tap transformer, thus a single phase 3 wire power supply is obtained. At this stage, the AC power is suitable to connect to the load demand in the aboriginal village such as residential equipment, home appliance, lighting and others.

Consolation


University:

UTM


Project title:

Wrist Robot for Hand Rehabilitation for Stroke Patient


Team members:


Mohd Muhaimin bin Mahmood


Advisor:

Dr Yeong Che Fai


Project abstract:


In recent years, the exoskeleton robot has been applied in the areas of rehabilitation and power assist for daily life. The using of exoskeleton robot in the field of medical is increasing due to increasing number of stroke patient. The exoskeleton robot becomes alternative for rehabilitation of stroke patient due to not enough therapists available especially physiotherapists. However, compared to normal rehabilitation, exoskeleton robot is more attractive because some of the exoskeleton robot provides some attractive vision system so that patient did not feel bored during rehabilitation. If compare to therapist, the patient need to come to the hospital or where the exoskeleton robot is placed. This project is mainly concern on improving the mechanical design. This project focuses on the basic movement for rehabilitation and method to control the end factor based devices robot. The reason of using end-effector rather than exoskeleton is the end-effector will enable patient to keep their shoulder in proper position themselves. This robot also only focuses on grasping design because from our point of view, most of the rehabilitation robots available now do not obey the functional position of hand which can easily make the patient exhausted. Furthermore, we are trying to make this robot as cheap as possible to ensure all the patients can effort to buy the robot. The robot can manually control which is the user will set the position due to user condition. So it can conclude that this rehabilitation robot has mechanical design that equipped with some rehabilitation strategies with is applying functional position of hand and has attractive graphic to make the process exciting. From this project, the developer hopes that the development of rehabilitation robot in Malaysia will be rapidly increase, because rehabilitation robot will give many advantage to medical field.

Consolation


University:

MMU (Melaka)


Project title:

Development of a Generic Testbed for Electrical Parameters


Team members:


Ooi Chong Wei


Advisor:

Dr Lim Tien Sze


Project abstract:


Switching control and monitoring systems are being widely developed for various quality control and management system in factory. For this design's objective is to develop a temperature and humidity monitoring system and electrical parameter measurement system for the test station. By implementing switching control, it can perform measurement paths switching rather than checking the test point on particular time or frequency manually. The system will be experimented by a DIY component under test board system.The problem statement is the monitoring system developed need to be used at a distance away from the workplace as well as monitor environmental condition within an enclosure.The difficulty that might be faced would be the wireless communication among the systems developed and data acquisition for data storages and references. Wireless module and several sensors will be included to integrate with PIC while the Agilent modular product will act as data logger system. The results will be shown in a graphical user interface and the electrical parameter can be obtained for analyzing. The efficiency of process run test at the station can be improved by using the proposed system.

Shortlisted


Project titles:


Smart Rescue Navigation System for Boat
iWrite: Interactive Handwriting Training Kit for Children Using Gesture Recognition
B.Predict: Graphical Simulation of Blood Flow Modelling for Health Prediction
PC Based RF Spectrum Analyzer
Interference Measurement and Characterization for Wi-Fi System
Design and Development of a Temperature Control and Monitoring System
A Servo Controller for DC Brushless Motor

Altera Track
Prize



Details

First


University:

USM


Project title:

FPGA-Based Cervical Pre-Cancerous Diagnostic Kit


Team members:


Yong Bang Ming
Teng Yuan Jun


Advisor:

Assoc Prof Dr Nor Ashidi Mat-Isa


Project abstract:


Cervical cancer is a worldwide problem affecting women. In Malaysia, it is now the second most common cancer afflicting women. However, cervical cancer is not a death sentence. It is preventable and treatable if detected early. Mortality from it has been reduced tremendously due to widespread Pap smear screening. However, the screening procedure is prone to human errors such as misdiagnosis due to inexperience. This can be overcome by the proposed project which aims to automatically diagnose precancerous cervical cells using an FPGA-based dedicated diagnostic kit aka Cervical Pre-cancerous Kit (CPDK). The system would consist of five main parts, viz., acquisition of cervical cell image, automatic feature extraction, artificial intelligence diagnosis, implementation on FPGA, and development of a graphical user interface (GUI). Acquisition of a cervical cell image would be done either through a captured image from a microscope or loaded from an image stored in its camera's SD card. Automatic feature extraction involves one algorithm called Seed-based region-growing (SBRG). It is divided into two stages. First, the system will detect and isolate two main parts of cervical cell namely nucleus and cytoplasm. Then, four features of cervical cell will be extracted (i.e. nucleus size, cytoplasm size, nucleus grey scale and cytoplasm grey scale). The extracted features will then be fed as input data to the intelligent diagnostic part. The hierarchical hybrid multilayered perceptron (H2MLP), an artificial neural network (ANN), is proposed to determine whether a cervical cell is normal or abnormal; the latter includes pre-cancerous low grade intra-epithelial squamous lesion (LSIL) and high grade intra-epithelial squamous lesion (HSIL). Implementation on FPGA involves programming on an Altera platform, DE2-70 into the complete automatic precancerous cell diagnosis system. Lastly, a GUI may be developed to make the device more user-friendly.

Second


University:

UTM


Project title:

PC-Based Logic Analyzer


Team members:


Leow Chee Hau


Advisor:

Dr Izzeldin Ibrahim Mohamed Abdelaziz


Project abstract:


The purpose of the project is to design and build a PC-based logic analyzer which is a measurement instrument that allows user to check logic levels at multiple parts in a digital circuit. A logic analyzer is similar to an oscilloscope, but an oscilloscope is capable of measuring both analog and digital signals whereas a logic analyzer only displays digital signals. The idea behind creating a PC-based logic analyzer is to devise an economically feasible option to provide high performance logic analyzers to all lab stations in the Faculty of Electrical Engineering at Universiti Teknologi Malaysia. The goal of the project is to develop a system-on-chip (SoC) as a low cost and higher frequency performance PC-based logic analyzer. The analyzer has a sixteen channel, able to operate in both timing analysis mode and state analysis mode to sample digital data. The logic analyzer communicates with PC through RS232 serial connection. Besides, the Graphical User Interface [GUI] is also developed using C# programming to allow user to configure the logic analyzer and enable the data to be display interactively.

Third


University:

USM


Project title:

Blimp Control for Low Altitude Surveillance


Team members:


Tan Guan Yap
Richard Wong Teck Ken
Tiew Weng Khai


Advisor:

Dr Mohd Rizal bin Arshad


Project abstract:


Blimp system with cameras is an appropriate method for topographical surveillance, observations, as well as monitoring. Surveillance requires a stable platform to guarantee for the captured images to be suitable for processing. In blimp system, helium provides the buoyancy force to lift the system to the desired altitude. The design of the blimp includes blimp size, blimp shape, etc. Blimp shape is designed based on the conventional blimp design. Blimp size is highly dependent on the weight to be lifted since the upwards buoyancy force is mainly provided by helium. The greater the weight to be lifted, the larger the volume of the helium needed, that makes the size of the blimp to be larger. In order to identify the topography of certain area, disparity mapping technique is used. Disparity mapping technique is used to determine the depth of the object in the stereo images. Stereo images are obtained by using two cameras positioned side-by-side on the blimp system. Region of interest (ROI), which is a reference sight of stereo camera, is used in order to do disparity mapping on the images. ROI is obtained by using block matching algorithm. SolidWorks software is used in designing the blimp system. The Altera DE2-70 board is used to acquire and display the images on monitor through VGA interface. The NiosII processor from Altera DE2-70 board is used to capture the images. The image is saved as a bitmap file in the computer Simultaneously, another images captured by the cameras will be processed by using MATLAB software. The operation on the blimp on air will be controlled by PIC using MPLab software. High stability of blimp system and the accurate navigation ensure desired surveillance effect is achieved. Accurate topographical representation of real environment can be obtained using the disparity mapping technique. This project not only can be implemented in topographical survey, but also for multi-purpose applications. This project is of high sustainability and environment friendly.

Consolation


University:

MMU (Cyberjaya)


Project title:

FPGA-Based Hand Gesture Home Control System


Team members:


Lee Chia Ching
Wong Chin Yeow
Pua Yi Xun


Advisor:

Cheong Soon Nyean


Project abstract:


In this project, an FPGA-based hand gesture control prototype system is designed and implemented at Multimedia University (Cyberjaya) that allow users to control home devices such as video players, lamps, etc. easily and conveniently. The system provides an immersive experience for home users to use their bare hands in free-space as an interface to control home appliances connected within a home network. FPGA acts as the image processing unit of the system that recognizes the hand gestures and commands the home media server to control the target appliances via Ethernet. The user interface of the system is augmented with photos of the actual home environment so that home users can control home appliances more intuitively and naturally. The system eliminates the limitations of traditional interface devices and provides a large intuitive and interactive interface for users to access home appliances easily. The system is able to detect the movements and postures of the user's hand and use them to produce a number of controlling functions such as turning on/off lamp and fan, dimming/densifying the lights, play/pause, fast-forward/fast-backward music and video movies.

Consolation


University:

UTHM


Project title:

Quasi Hand Finger Massager


Team members:


Liam Kah Hoe
Tan Kar Chin
Ho Chun Fei


Advisor:

Dr Xavier Ngu


Project abstract:


Nowadays, people are keen on working long hours whether at their workplaces, homes or even in front of their computers. This long term of working period might cause headache, muscle strain, and stress. Therefore, this project is to propose a solution to reduce human muscle tension and reduce stress by applying simple human massage techniques on human body via a quasi real hand finger massager. To achieve the project, Altera Development and Educational 2(DE2) board is used as a main circuit board to control the movements of the fingers and where the necessary codes are programmed. The movements of the robot hand are driven by servo motors.The driving forces from the servo motors are transmitted to the fingers through the wiring mechanism. The Quasi Hand Finger Massager could be applied in other fields such as surgery, industry, and robotic arm for handicapped people.

Shortlisted


Project titles:


Remote Upper Limb Tracking System
FPGA Implementation of DSSS-CDMA Transmitter and Receiver for Military Inter Vehicle
A Crawling Rescue Robot on Uneven Surfaces Using Field Programmable Gate Array (FPGA)
FPGA-Based Flood Monitoring and Warning System
Water Leakage Detection Using Fiber Optic Sensors
Prediction of Protein Structural Class Using a FPGA Based Hardware Accelerator
Hardware Based Advance Collaboration Over Local Network
Animal Sound Recognition
Develop SignWriting Translation System by Using Altera DE2 Board
FPGA Based Oscilliscope
Efficient Hardware Implementation of AES Algorithm for Telemedicine Application
Hardware Implementationof Transpose Modules for 3D Medical Image Compression
Design of Reconfigurable FFT Processor
An Automated Car Parking System by Implementing FPGA-Based Platform
USB 2.0 Device Controller IP Design
GPS Data Logger with Qibla Indicator
Home Appliances Central Control System Using Speech-Recognition
Real-Time Subtitling System
Face Recognition Surveillance System Using FPGA
Soda Vending Machine Innovatory
Baby Cry Detector
Automated Hotel Lugage Trolley

Intel Track
Prize



Details

First


University:

UTM


Project title:

Vision Based Human Input Device


Team members:


Syed Mohd Syazani bin Sayed Mohd Nor
Nur Hanis binti Rosli


Advisor:

Dr Muhammad Nasir Bin Ibrahim


Project abstract:


This paper presents a method to develop a human input device using computer vision technology for human-computer interaction. The aim of this project is to offer the possibility of transforming an ordinary display panel into interactive tactile surface. The system defies the need for conventional mouse and keyboard to control a machine or requiring reassembling the currently available working machine to implement the touch appearance. Moreover, this system is found compulsory as green alternative to replace expansively use of marker pen in academic institution. By using a webcam for tracking user interaction with a surface panel, further analyzing and recognizing the captured images with image processing algorithm, user input contact can be determine to trigger computer event. Ideally, the better lightning environment condition the more responsive the system will become. This project can achieve several tasks such as controlling large display panel or as interactive whiteboard using tip pointer such like LED pen or laser pointer to generate input signal.

Second


University:

MMU (Melaka)


Project title:

Semi-Auto Military Surveillance Robot


Team members:


Tshiamo Rakgowa
Sayid Hasanul
Saw Kyaw Thura Aye


Advisor:

Yong Yik Seng


Project abstract:


We intend to design a mobile robotic plaform that will be used to survey or manouvre in urban areas. Sometimes military personnel have to infiltrate terrorist or enemy hideouts, they often put their lifes at jeopardy as they do not know the exact position of the enemy within the compound. We intend for our robotic platform to help alleviate this sort of problem by enabling the operator to spy on the enemy and know their concealed hideouts prior to an immenent attack. The robot will be able to switch between manual mode and autonoumous mode on the fly.

Third


University:

UTM


Project title:

Self Parking Car System


Team members:


Lim Yee Chang
Khor Kang Xiang


Advisor:

Dr Yeong Che Fai


Project abstract:


Parking is always a nightmare for the less experienced driver especially for the parallel or side parking task. It's always a hard time for them to park the car precisely in short time. However, this problem was ignored by the auto industry until recently in the early of 21st century. The 1st commercialized car with a self-parking car system was introduced by Toyota in 2003 in the hybrid car model "Prius". The system is called "Intelligent Parking Assist System" (IPAS). This system is quite limited as it still needs the driver's involvement during the parking, which the system takes control of the steering while the driver controls the oil and brake pedals. Therefore, "Self-Parking Car System", a fully automated parking system is proposed in this project as the complement of the current system that exists in the current market. The SPCS is a system that can perform the parallel parking task fully automatically after an available parking lot is detected. In this project, a scaled down prototype is built base on a real car's dimension. The SPCS is then implemented on the prototype. The steering drive method or 'Ackerman steering' is used as the locomotion of the prototype to ensure that the prototype built resembles to a real car as much as possible. The system's goal is to design a system that is as flexible as possible so that it can be implemented into any vehicle. SPCS is designed so that it can perform the parking task on any vehicle based on its dimension. The reason of creating such system with this flexibility is to eliminate the process of redesign the system for different vehicle.

Consolation


University:

UTeM


Project title:

Portable Physiotherapy Limbs Rehabilitation Robot


Team members:


Tan Boon Chuan
Chang Ling Kwai
Teng Jin Chung


Advisor:

Ma Tien Choon


Project abstract:


The purpose of this project is to design and create a smart robot which is able to provide physiotherapy treatment and exercise for disabled people in the way that the robot is affordable and portable. Disabled people have always hoping to retain a normal life as an ordinary person that can move freely enjoying parts and puzzle of this great world. The only way they can get what they hope for is by undergoing physiotherapy treatment and exercise to rebuild their limbs strength in order to gain control over their limbs. There are specialized center with professional physiotherapist and advance facilities to provide the service but there is a big draw back when we consider about disabled people's problems where they need ambulance service for transportation and the high cost of physiotherapy service. With the Portable Physiotherapy Limbs Rehabilitation Robot, a disabled patient is able to do physiotherapy treatment at their home saving time, money and risk of getting injured when going to specialized center. The robot is small in size to fit in any house and with a smart system that is able to provide quality physiotherapy exercise and training. Besides, the robot is enhance with different kind of sensor making sure that the exercising and training process will not use too much of force that cause injuries and maximise comfort. Anyone even the patient will be able to operate the robot as there are clear 2D/3D visually aided instructions on a simple graphical user interface (GUI) system delivered by the embedded LCD screen. This project will create a product that benefits many disabled people in the way of considering their needs and convenience, creating more chances of physiotherapy treatment at the end bringing greater hope of rehabilitation.

Consolation


University:

UTM


Project title:

Automatic Presenter Tracking for Video Recording


Team members:


Muhammad Adlan bin Izam


Advisor:

Dr Usman Ullah Sheikh


Project abstract:


Video recording a person who is delivering a speech in public can be interesting if the entire lecture can be recorded. However, video recording is often made less efficient due to the movement of presenters who do not stand in one position causing the full recording from the beginning to the end of the recording become difficult thus requiring a human cameraman. To solve this problem, a system that performs video recording and human tracking automatically is proposed in this project. Using the Intel Atom Board as a platform that will act as a computing system and input-output elements to produce a video in which tracking of human movement can be recorded by the camera. The camera that connects to the stand controller for the movement of people will be based on human face detection techniques and skin color detection. Camera is also able to maintain the original recording images after detecting differences of human distance with the camera through the camera lens adjustments. With this video recording system, fully automatic recording can be made efficiently.

Shortlisted


Project titles:


Intelligent Energy Management System for Rural Off-Grid Electrification
Wireless Data Collector Robot (WDCR)
Real-Time Iris Recognition and Tracking System
Active Noise Cancellation in Cars
Indoor Positioning System Using RFID with GSM Interaface
Object Tracking for Human Interaction with Autonomous Hexapod Using Head Gestures
Intelligent Home Operating System
Authentication System Based on Multibiometric Recognition Technology
ROS as Robot Framework in an Intel Atom Processor for a Vision Servoed Mobile Robot
Remote Patient Tracking System
Gesture Control for Human-Robot-Interface
Autonomous Car
Intelligent Material Sorter
Master Slave Operation Using 6DOF Arm Robot for Hazardous Environment
Design and Develop Sensors and Response System for Green and Sustainable Fish Cultur
Electric Vehicle Intelligent Control System (EVICS)
S3 - Smart Surveillance System
Real-Time Car Plate Recognition and Monitoring System Using Stand Alone System
Seizure Monitoring and Communication System for Syndromic and Disabled Patients
VaSteReo: Variable Baseline Stereo Vision
Intelligent Smart Home System
Unmanned Water Surface Patrolling System
Embedded Smart Programmable Logic Controller on Intel Atom Processor
IIUM WII - Interactive Games for Elderly Therapy

National Instruments Track
Prize



Details

First


University:

USM


Project title:

Personal Identification Based on Finger Vein Using NI Single-Board RIO


Team members:


Lau Wei Cheang
Tan Pin Yang
Tan Teck Leong


Advisor:

Dr Bakhtiar Affendi Bin Rosdi


Project abstract:


Biometric technologies are automated methods for recognizing individuals based on biological and behavioural characteristics. Establishing human identity, reliably and conveniently has become a major challenge for a modern-day society. The biometric technologies developed in response to the growing worldwide demand for automated human identification include finger, face, hand, iris, and other identifiers. In our project, we reviews the system based on finger vein leads towards authentication of an individual. This system will capture the image of finger vein by shining a near-infrared light, then some image processing is done on vein image and finally compare with the database to check the identity of the user.

Second


University:

UTM


Project title:

Navigation of Omnidirectional Robot with Feedback of Gyroscope and Odometry


Team members:


Tey Wei Kang


Advisor:

Dr Yeong Che Fai


Project abstract:


Nowadays, mobile robot has been developed with various kind of navigation ranging from dead reckoning like inertial measurement unit, odometry and absolute navigation like line following, wall following and GPS. Some of the robots are heavily rely on the line following navigation. However, this kind of navigation is not applicable in such a place where the line was not provided. Besides, in terms of path planning, the line following algorithm is relatively take more time and longer path as compared to the other type of navigation such as dead reckoning with gyroscope. Therefore, path tracking with gyroscope and the combination of omnidirectional mobile robot is developed to solve the problem. The omnidirectional mobile robot is designed for 2D planar motion and capable of translation (x, y) and rotation around their center of gravity (θ). In this project, the omnidirectional mobile robot consists of three actuators which each have an omniwheel mounted on it. These actuators are arranged in such a ways that the actuator is 60 degree to each other. By this configuration, the robot is able to move to any direction easily. In terms of navigation and path planning, the robot is fully controllable in all degree of freedom which is holonomic. Therefore, it is easier to track a path as compared to conventional two wheels differential steered drive mobile robot. By using NI sbRIO – 9632XT FPGA, several functional blocks will be configured. There are PWM generator, Quadrature Encoder Interface (QEI) and Universal Asynchronize Receiver Transmitter (UART). The UART and QEI will read the input data from gyroscope and external encoders which mounted on the robots and feed those data into NI sbRIO – 9632XT processor. Inside the processor, the data will be processed by some formulae in order to calculate the speed for the actuators. The calculated speed is then feedback to the speed controller programmed inside the processor and thus output to PWM generator to control the speed of the actuators. By controlling the motor speed of the omnidirectional mobile robot, the path tracking is able to be optimized. The main propose of the project is to develop an omnidirectional mobile robot with well navigation system for general proposes such as public cleaning, transport of goods in hospitals, factories, ports and warehouses and security patrols.

Third


University:

UTAR


Project title:

Smart Grid: Improve Power Quality with High Renewable Energy Sources


Team members:


Pang Yap Seng
Kong Kie Ming
Lim Khim Yan


Advisor:

Chua Kein Huat


Project abstract:


Green Technology and Renewable Energy had become the main focus of the whole world in solving the energy crisis and pollution. In the Tenth Malaysia Plan (from 2011 to 2015), government had set the target to achieve the growth of renewable energy of 98MW which contributes a total of 5.5% of the total electricity generation. Having the advantage of hot sun all year long, Malaysia has the great potential in implementing solar power generation for household and even for industrial usage. In near future, our electrical network may be penetrated with high capacity of photovoltaic (PV) systems. Hence, it becomes highly important to understand the technical challenges facing with high penetration of PV systems. With large number of PV installation in low-voltage (LV) distribution networks, numerous issues may occur such as voltage unbalance, voltage regulation, voltage rise, thermal limitation and network power losses. This project proposes an intelligent active management system to mitigate the voltage unbalance issue with high penetration of PV systems in LV distribution network.

Consolation


University:

UTM


Project title:

sbRIO Lab-on-Chip Gas Sensing and Monitoring for Multisensor Array


Team members:


Siti Noradhlia binti Mohamad Tukijan
Mohd Najib bin Sarlan


Advisor:

Mohd Azhar Bin Abdul Razak


Project abstract:


It is utmost to create a system at which can monitor and indicate the gas level exist in certain area, especially for hazardous gas, as early preparation and protection before something worst happen. The gas sensing and monitoring system composes of hardware and software elements. A spiral chamber which is simplified on chip, known as Lab-On-Chip (LOC), plays an important role in this system. The examined gases will be analyzed by 16 sensors during the flow through the spiral chamber. The responses of these sensors are obtained via analogue input channels from single board RIO (sbRIO) and are displayed on a computer using LabVIEW virtual instrument software. The system offers portable, real-time monitoring and fast response time even in room temperature.

Consolation


University:

UTAR


Project title:

2-D Location Pointing System for Individual Component on Device Under Test


Team members:


Chung Ka Siew
Ch'ng Khai Chiah
Cheng Xuan Teng


Advisor:

See Yuen Chark


Project abstract:


Time is an important factor to determine the market performance of a product, where accelerating the process of test development is one of the solutions. Probing is involved in most of the process. Hence, designing a system to assist the engineers in component searching during probing process is the main objective of this project. It consists of a movable laser pointer, two stepper motors with limiting switches as sensors attached at origin, a camera with built-in microphone, and eight LEDs as light source. The laser pointer will point to the correct location of a component on device under test (DUT) when it is selected in the schematic in the computer. Record keeping is important for every probing process to ease the tracking back if problems happen again in the future. Hence, the record of all selected components in this system is saved and user is given option whether to add a comment about each selection. In addition, a multipurpose flexible holder will be integrated in this system as an additional feature. It is designed to hold any object and lock its movement in a fixed location, which can be applied in probing or soldering process. NI sbRIO platform is used as the central control device to interact with the input/output processing whereas NI LabVIEW software is used to develop the monitoring and control program in this system.

Shortlisted


Project titles:


Autonomous Demand Response Transit (ADRT) System
Emergency Monitoring System
Face Recognition Door Entry System
Crane Anti-Swing Control
Intelligent Lifting Mechanism for Pepper Harvester Vehicle
Medical Image De-Noising for Ultrasound Images: An Efficient Hardware Accelerator Ap
i-Learning Performance Evaluation Using SSVEP Technique
Design and Development of Lard Detector
Predictive Maintenance Using Vibration Signature
Semi-Active Suspension System for a Quarter Car Model

Silterra/CEDEC/Altera Track
Prize



Details

First


University:

UPM


Project title:

CMOS RF Front-end Receiver Design


Team members:


Teoh Pit Leng
Lai Sheng Ming
Ngu Kek Siang


Advisor:

Assoc Prof Dr Roslina bt. Mohd. Sidek


Project abstract:


The demand for single chip receivers with low-power consumption has been increasing as the demand for portable devices with long battery life such as for wireless sensor network, instrumentation and communication continue to increase. This project is targeted to design a front-end receiver with low power consumption which complies with Zigbee standard. This project will be based on Silterra CMOS 0.13 µm technology. Techniques such as low voltage circuit design, subthreshold biasing and current reuse will be applied to the design to lower the power consumption. The design also addresses the challenges to meet the performance of the front-end receiver while keeping the power consumption at minimum level.

Second


University:

UPM


Project title:

Development of 130nm Silterra Low Power Process Standard Cell Library


Team members:


Amira Afiqah Mohd. Bazir
Siti Safwana Abdul Razak


Advisor:

Dr Fakhrul Zaman Rokhani


Project abstract:


Low power digital library are essential in reducing the power consumption of circuits and systems especially for the portable computing market segment. This proposal presents the development framework of the low-power standard cell library based on Silterra 0.13LP CMOS process. Schematic and layout of the digital cells will be manually designed to achieve highly optimized cell area and power. A stable automated flow to handle the digital cell characterization, cell verification and library abstraction export will be developed. Test chip will be designed to cross-validate the library data. It is expected that high accuracy library can be produced with reduced man-hour through the proposed framework and fabless design houses could benefit through the availability of this 130nm low power library.

Third


University:

UNITEN


Project title:

8-bit Logarithmic Multiplier with CMOS Adiabatic Adder Circuit


Team members:


Lee Xu Shen
Chin Jen Loong


Advisor:

Azrul bin Ghazali


Project abstract:


Conventional binary multipliers perform multiplication of two numbers by computing a set of partial products, and then, summing the partial products together. This multiplication technique, although easy to implement, requires a large circuit area and consumes a large amount of power. Hence, we propose a binary multiplier using logarithmic approach. This approach improves area and power, but will result in loss of accuracy. However, the accuracy can be improved by including an error correction circuit into the multiplier design. In the proposed design, the two multiplier inputs, which are 8-bit unsigned numbers, are converted into a 10-bit logarithmic format. Next, the two logarithmic numbers are added. The sum is then converted (antilog) back to the standard binary number representation. To minimize the power dissipation of the multiplier circuit, the adder component of this design is implemented using 2PASCL fully CMOS adiabatic architecture while the rest of the circuits are implemented using conventional static CMOS architecture. By integrating CMOS adiabatic with conventional static CMOS, power dissipation of the logarithmic multiplier circuit can be reduced without increasing the complexity of the design. The logarithmic multiplier is designed at gate level and device (physical) levels using Silterra 0.13 micron (CL130G) CMOS technology, and is powered up by 1.2V power supply. Cadence's IC Design System and Virtuoso Layout Suite are utilized to capture the schematic and layout design of the multiplier circuit.

Consolation


University:

UiTM


Project title:

Multilayer Perceptrons for Selectivity of Integrated Electrochemical Sensor Systems


Team members:


Mohamad Faiz Omar bin Mahmud
Fadzilatul Husna bt Adnan
Ahmad Ridhuwan bin Sudin


Advisor:

Wan Fazlida Hanim Abdullah


Project abstract:


Artificial Neural Networks (ANNs) is an interconnected group of neurons that uses a mathematical model for information processing often done using computational method. The objective of this project is design neuron with hyperbolic tangent (TANH) activation function on digital implementation for integrated circuit (IC). This paper compares the performances of area, speed and power between tree and ring architecture of the neuron. TANH activation function is approximated up to three orders terms in Taylor series expansion since direct instantiation code is not possible. That the neuron will be implemented as neuron layout by using custom design approach based on post synthesis done in Quartus II software. IC design will be implemented on Cadence Design Systems Virtuoso software by using Silterra 0.13µ micrometer technology. The activation function successfully performed the TANH mathematical operation with ±0.02 percent accuracy. Tree architecture of TANH activation function performs better than ring architecture in terms of speed since it have lower propagation delay by 22 percent and use less hardware by 23.34 percent in the design. Ring architecture has low power dissipation than tree architecture only by 0.005 percent. The number of resources usage for tree architecture is 423 while the ring structure is 425. The delays of the structures that were implemented on Quartus II with tree and ring structure are 29.047ns and 27.340ns respectively. The maximum fan-out is 40 and 50 for tree and ring structure respectively. The analysis of neural networks for both structure show that it directly proportional to the analysis of their structure. The ring structure has been implemented as an IC layout with size 680μmeter x 2493μmeter.

Consolation


University:

UM


Project title:

Design and Implementation of CMOS Modulator for Wireless Transceiver


Team members:


Toh Khar Peng
Zamzuri b. Azmi
Nurasliza binti Abdul Rasid


Advisor:

Dr Harikrishnan Ramiah


Project abstract:


In the tremendous growth of wireless handheld devices, low power consumption becomes a major consideration in radio frequency integrated circuit (RFIC) designs. A battery life that can survive for years without being replaced, makes it realistic to implement many applications where the battery is unreachable (e.g. concrete walls) or expensive to change (e.g underground applications). IEEE802.15.4 (ZigBee) standard is published to cover low power low cost applications, where the battery life can last for years, because of the 1% duty cycle of operation. The work proposes a fully integrated 2.4GHz IEEE802.15.4 compliant demodulator in receiver suitable for low voltage, low power and low cost ZigBee applications is implemented. A low-voltage, cross-coupling, integrated CMOS down-conversion multi-phase mixer with current bleeding reuse adaption to enhance the linearity accommodating the highlighted wireless standard is design and implemented. An enhanced investigation and design of a low power, low phase noise and high output swing complementary quadrature LC-VCO to provide local oscillator (LO) signal to the mixer for frequency translation is also presented. Implemented in 0.13µm, 8 metal, 1 poly, 1.2V standard CMOS technology and catering to the need of integration in the proposed down-conversion mixer and voltage control oscillator (VCO) topology, a low voltage high precision current-mode bandgap reference (BGR) circuit with a reference voltage at half of power supply with a high gain self-biased error amplifier is presented. The performance is simulated with Cadence SpectreRF simulator. The down-conversion mixer exhibit a simulated linearity of -4.89dBm with the accompanying simulated third order adjacent interferer (IIP3) and an input dynamic range (P1dB) of -15.26dBm at 2.4GHz of LO frequency, with 2.401GHz of input RF frequency. The corresponding standalone down-conversion mixer topology independently dissipates 5.03mW of simulated power. The input bias network to transconductance stage of the proposed down-conversion mixer observes a simulated bias voltage with a variation of approximately 5mV over the wide temperature range of -30°C to 125°C while dissipating 0.27mW of simulated power. The complementary quadrature LC-VCO topology indicated a simulated phase noise performance of -116.6dBc/Hz at an offset frequency of 1MHz. The respective simulated power dissipation in the complementary quadrature LC-VCO stage is indicated to be 1.78mW with accompanying 41.4% of simulated tuning range at 1.2V of supply voltage.

Shortlisted


Project titles:


Development of MEMS Pressure Sensor for Health Care System
Design of Frequency Synthesizer for Ethernet Passive Optical Network Application
High Speed Receiver Layout