Winners have been announced in the Grand Finale held at MaGIC Cyberjaya on 17 July 2017. Congratulations to the winning teams!

The Innovate Malaysia Excellence Award 2017 goes to ViTrox track winner from UTM with project entitled " IoT Smart Car Parking System Using Machine Vision". The team members are Daniel Ng Chiu Loong, Ang Miin Shan, and Lee San Kong, supervised by Dr Yusmeeraz Yusof.


Ivan Chong Wei Yang from UTeM won the IEM Best Paper Award under supervision of Dr. Wong Yan Chiew
with paper entitled "Optimization and Development of a Low Power Microcontroller for IoT Application".


Ng Mun Kit, Yap Yee Yang, and Wong Hong Loon from USM won the DreamCatcher Best Demo Video Award under supervision of Dr Khoo Bee Ee and Dr Mohamad Khairi Ishak with project entitled " Artificial Eyes (Intelligent Blind Assistance)".
News Release
Undergrads tackle real world engineering challenges at Innovate Malaysia 2017 - Digital News Asia
Uni students develop smart system to curb double parking problems - New Straits Time
UTM Juara IMDC - Harian Metro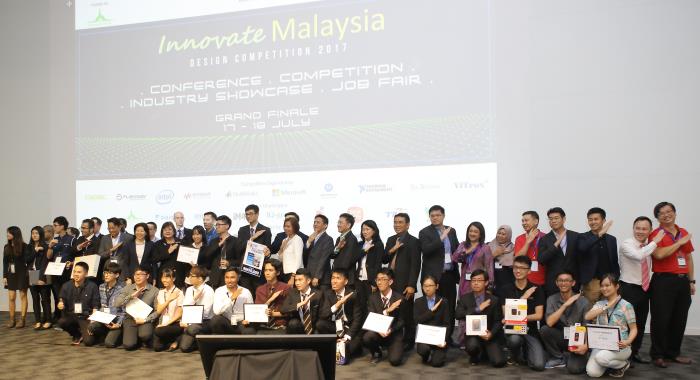 Fusionex Track
Intel Track
Keysight Track
MathWorks Track
Microsoft Track
Motorola Solutions Track
NI Track
SilTerra/CEDEC Track
ViTrox Track
Design Challenges
Prize



Details

Cyberview


University:

UTM


Project title:

Smart Parking with Automated Double Park Detection System


Team members:


Edward Chan Kam Fai, Gan Yi Reng, Leow Tan Chun Kit


Advisor:

Dr Kamaludin Mohamad Yusof
Daikin


University:

USM


Project title:

Development of Control Algorithm for Spot Cooling


Team members:


Andy Tan Wei Keat, Chan Hao Jie


Advisor:

Dr Teoh Soo Siang
Entopia


University:

USM


Project title:

Pupae Setter Machine


Team members:


Ooi Yoong Khang, Tang Khai Luen, Cheong Leong Kean


Advisor:

Assoc Prof Dr Haidi bin Ibrahim & Assoc Prof Dr Khoo Bee Ee
iM4U


University:

UiTM (Shah Alam)


Project title:

Energy Harvesting Using PCM


Team members:


Mohamad Alif Ridzuan Bin Ismail, Fadzilah Binti Khairil Annuar


Advisor:

Dr Rosalena Irma Binti Alip
IQ-group


University:

UTeM


Project title:

Development of an Automated Human-shaped Test Subject with Wireless Control and Data Acquisition


Team members:


Keek Joe Siang


Advisor:

Dr Muhammad Herman bin Jamaluddin
Ranhill


University:

UTeM


Project title:

Real Time Monitoring System and Water Leakage Detection in Underground Plastic Pipeline


Team members:


Gowdie Palmer Ak Derai , Saeed Mohammed Abdulghani Mohammed


Advisor:

Dr Rozaimi Bin Ghazali
Sime Darby


University:

UTHM


Project title:

Develop of Portable IN-SITU Sensor to Predict Soil Fertility


Team members:


Nur Aisyah Syafinaz binti Suarin, Tan Yit Peng, Tan Siew Chin


Advisor:

Dr Chia Kim Seng

Telekom Malaysia


University:

USM


Project title:

Artificial Eyes (Intelligent Blind Assistance)


Team members:


Ng Mun Kit, Yap Yee Yang, Wong Hong Loon


Advisor:

Dr Khoo Bee Ee & Dr Mohamad Khairi Ishak

WCS Malaysia


University:

UTeM


Project title:

Smart Monitoring and Control of Human-Elephant Conflict System


Team members:


Sivnes a/l Dasdevan, Gan Yee Wei, Wong Chen Ing


Advisor:

Dr. Saifulza bin Alwi @ Suhaimi & Ma Tien Choon